2021 - A year in review
2021 had been packed with full of surprises it didn't go as I had planned it but turns out it was 10 times better. I went from being a student to a fellow to getting hired, building my dream project, and much more! So here's my life's journey of the year 2021 in my words.
2020 was the year I started programming with the goals of learning basics and exploring different avenues. After 6 months into it, I decided to apply for GDC fellowship . After clearing 2 rounds I got an invite for the final interview round. I deliberately booked the slot on 31st December 2020 because I wanted to end it that year itself and start fresh in 2021.
The interview day came and it went amazing, I was pretty confident about the positive result so I entered 2021 the next day on this optimistic note.
My 2021 goals & resolutions were mostly learning X framework & Y language with no plans on looking to get an internship. I prioritized learning and building things over anything.
As I advanced to the 2nd week of 2021 I finally received the good news I was waiting for! I got selected in the fellowship program as one of the Top 24 students out of 50,432 applicants. This was the biggest gain I had in my life and was overwhelmed with felicitations from family and college.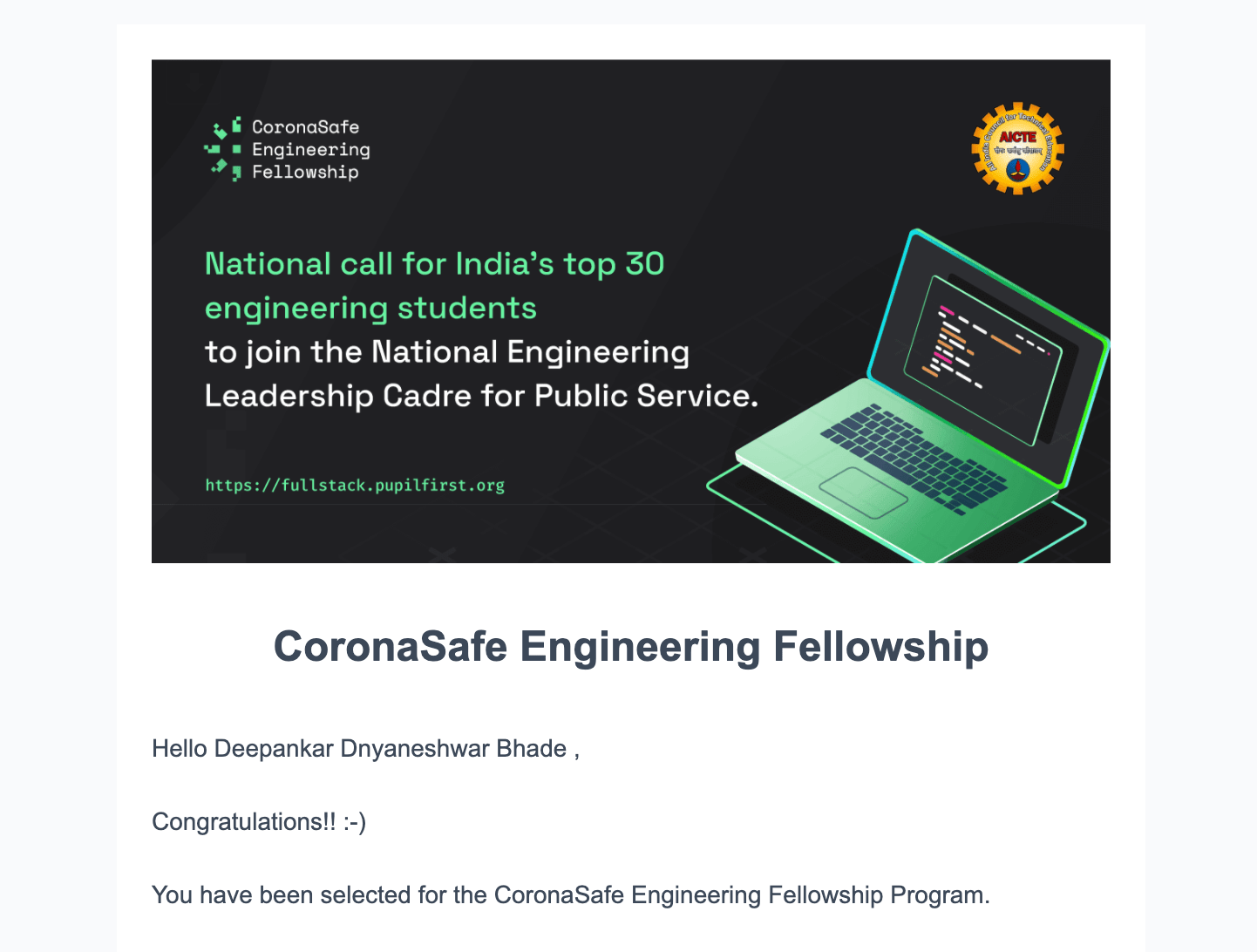 The first 8 weeks of the program consisted of mentorship and training from industry experts. This is when I met my 1st mentors Jasim & Jacob . Thanks to their teaching and support I was able to learn Ruby, Rails & ReScript in less than 2months.
This was the time I truly understood the importance of asking questions, getting code reviewed. One thing I loved in the program was weekly AMAs with senior engineers because they pretty much changed my life.
The sole reason why I am active in Open source today is that Goutham Veeramachaneni & Vishnu Gopal couldn't be more grateful to them for delivering their talks and inspiring me to kickstart my journey.
In March, I made my 1st open source contribution which was followed by hundreds more throughout the year. I also completed my training and capstone project before time so was having plenty of free time.
Most of my free time went into building projects, one of the projects that I loved was building my very own Spotify which had features to play, download, create playlists, and all. I wanted to build this since last year and I was finally able to build it with electron, react, typescript, FFmpeg.
Sneak peek of the application
The fellowship also offered a 6-month internship after the training which I happily accepted, it revolved around building Open source software for National health projects. At the end of March I started working on the Arike project , tho I didn't contribute much to this project it was great learning trunk-based development & pair programming.
In April As India was witnessing its devastating 2nd wave of covid-19. Due to this, there was a shortage of oxygen cylinders, medicines, hospital beds. On 20th April 2021, we got a text to work on a project that aimed to solve this problem.
We started working on this project at 10 pm and we had our 1st prototype ready by 3 am the next day. Because of the amount of impact the project was making I spent more than 10hours a day working on it daily. We were surpassing millions of visits and API requests daily.
This project later went on to be known as the "Life project" which was started with less than 40 volunteers grew to over 900+ volunteers and 15+ organizatons from around the globe in under 1 month. Because of the project, I got to closely work with executives from NYSE , Disney+Hotstar , Dropbox and many more.
Due to overexertion, I got burned out for the 1st time in my life. Since the project was stabilizing I decided to take some time off. Just after 2days I was feeling better and started working on my dream project.
After failing to build it 2 times I was finally able to launch chloromaps.com . This project received a pretty good response, decent organic growth & people were using it. One thing that made me super happy was that it got me a call with my inspiration @india.in.pixels .
On 1st May I got a text from Aniket who's the co-founder of 100ms. He talked about some projects they are working on and asked if I wanted to work in the company. I was super impressed by 100ms as they had an amazing founding team and were a SaaS company building SDKs 🤯.
I scheduled a call with him and on 6th May I joined 100ms 🥳.
6th May 2021 -> 1st Day (with my worst intro of all time)
I can't express how good this decision was! I am blessed and lucky for getting this opportunity. Since this was my 1st time working in an actual company I was learning a lot of things daily.
As time went by, I was no longer a teenager, turning 20 on 14th June. During this time I also watched Silicon Valley which is now responsible for my craving for reading hacker news, TechCrunch & anything about startups.
July saw my music taste transitioning to 2000s Bollywood songs from EDM, leading to the birth of my Hindi Songs playlist which I played on repeat dozens of times this year.
I spend an amazing time building an in-house documentation library for 100ms. As we were closing our 2.0 version we started planning for our Product Hunt launch. This was a very exciting time for me as I worked on the 100ms dashboard, website, docs & also got involved in our PH launch.
On 12th August all of our weeks of hard work and planning paid off as our launch on Product hunt became a massive success. We got a staggering 1000+ upvotes and were 1st Product of the day and 2nd Product of the week which is so cool.
Product hunt launch of 100ms
At the end of August, I experimented with 100ms SDK and built an MVP clubhouse clone in React. It later became 100ms's maiden tech blog , to my surprise it later got converted to a workshop that had been my dream. After hours of preparation and 2 mock sessions, on 9th September I delivered my 1st tech talk which went pretty well.
During all this time I got the chance to have 1:1 calls with Founders from really exciting startups that broadened my insights around the job opportunities in tech. Since I was enjoying working at 100ms I didn't switch to another company. On 5th October we made our $4.5million seed funding news public making me even more excited for the future.
One of the crazy things that happened in 2021 was seeing Guillermo Rauch (CEO of Vercel) was in my DMs. Tho I am not allowed to reveal the entire reason behind the text, he did say "Nice work on the site" which flattered me on so many levels (this is also my Twitter header now).
After months of delay I finally launched my personal site dpnkr.in were I published over 6 blogs in a span of a month. My blogs got picked up by dev.to & daily.dev that got me a combined views of more than 8,000!
After 100ms's Goa workation trip got canceled because of speculation of the third wave(which never came). I was eagerly waiting for the next trip to be planned, after some weeks of waiting the trip was planned to be in December in Bangalore 🥳. As a Startup enthusiast and being an Indian a trip to Bangalore was pretty much like a dream to me.
As my 1st solo trip planning was going on, I had resumed my Table tennis coaching after 3 years of break which made me realize how unfit I am. My mom dad started drafting a plan for my new office room and interior work was started for it in early December.
On 12th December my bags were packed and I was all set for my Life's 1st solo trip. Met some of my co-workers in Mumbai airport and in some hours I was in Bangalore. Since we're a completely remote company, I meet all of my colleagues in person for the first time.
The next day we had a town hall where the founders discussed the past, present, and future of the company. I also received my 1st secret Santa gift: Zero to One from Peter Thiel. The following days I spent most of my time with my colleagues talking about the future, work, life, how they deal with X things, their super insightful tech journey.
In my last days in Bangalore, the entire team went out for an outing in Discovery Village which was a lot of fun. I also got to catch up with some amazing folks in Bangalore that I had met on Twitter. After a week of my trip, I came back to Mumbai with a lot of memories.
I came home and my new office room was almost ready thanks to my lovely parents.
Some Statistics
Total programming time: 2,088 hours
Average programming per day: 5 hrs 48 mins
My 'best day' was Jun 9 2021 with 15 hrs 30 mins of time spent.
I visited github 19,333 times this year.
Github Contributions for 2021
Even tho my year of 2021 turned out pretty good I did fail to accomplish some of the goals that I had set for the year. Grateful for my family and friends who stick around with me.
As the year is ending, I am currently setting up goals for 2022 now let's see how the year surprises me!